Looking to buy a new vinyl cutting machine? Can't decide between a manual or an electric die cutter?
Maybe you are a Silhouette or Cricut fan looking to get your hands on the coolest new craft cutter for 2023?
Our complete guide to the best vinyl cutters is for you.
We've curated a list of the best machines, the best buying advice, and — well — pretty much everything you need to know about owning a vinyl cutter in 2023!
As you will see below, the title of best craft cutter boils down to a straight choice between the Cricut Maker 3 and the Silhouette Cameo 4. These are the two flagship machines from the largest companies in the electronic cutter space. While we gave the Maker the slightest of edges in our hands-on review (4.9 vs 4.8), they are both fantastic machines. And it really is a matter of personal preference.
If you are looking for a smaller, portable cutter, the Cricut Joy is a fantastic option — it's perfect for scrapbooking and paper crafts, and a little bit cheaper too.
Some readers may be looking for a manually operated die cutter, or even a commercial vinyl plotter. We've updated our recommendations in line with the latest 2023 releases, so read on for our top picks.
Here's a snapshot of the three most popular vinyl cutters on the market today:
The Best Vinyl Cutters In 2023
OK, so here's what's hot in 2023.
Let's take a look at some of the best vinyl cutters on the market today.
This section is updated regularly and contains a mix of our best rated machines for electronic cutters, manual cutters and commercial cutters.
Best Desktop Cutting Machines
Desktop cutters are the most popular type of craft machines. They typically take up about the same amount of space as a standard printer. These machines are fully digital, meaning you can use software to work on a wide range of cutting projects (or to automate the process entirely!)
Cricut Maker 3
Recommended: #1 Best All-Round Desktop Vinyl Cutter
Released in 2021, the Cricut Maker 3 is the latest iteration of Cricut's flagship craft cutter and it's a real powerhouse of a machine. Why opt for a machine that can only cut vinyl when the Maker 3 cuts over 300 different materials with ease?!
It's a big upgrade on the original Maker. Our favorite addition is the ability to work with Smart Materials — which means the length of matless cuts has extended up to a gigantic 12 ft. That puts the machine on par with its great rival, Silhouette Cameo 4, for cutting dimensions… but we would argue that the all-round package is superior.
Another area where the Maker 3 really builds on its predeseccor is in utilising Cricut's Adaptive Tool System, which serves up 10x the cutting force of the original machine. That's why it can work with such a huge number of materials… and why cutting vinyl will be absolutely no sweat.
Here are the features you're looking at:
Up to 2x as fast as Cricut Maker when using Smart Materials
Can cut virtually any fabric (even unbonded)
10 times the cutting force of the Explore Air 2
Can cut over 300 different materials, including thick balsa wood and matboard
Compatible with 13 tools for cutting, writing, scoring, foiling and embellishing
Huge sewing pattern library available
This is the machine for makers — those of us that like to dabble in numerous different crafts and like to experiment. It's hard to fault this brilliant machine.
The Good: A hugely versatile machine
The Bad: More expensive than other desktop cutters
We've put the Maker 3 at the top of our list for good reason. It's the machine we use for all our tutorials on this site, and we think it fully deserves its place as the best desktop vinyl cutter on the market today.
Read our detailed Cricut Maker 3 review
Best Deals on the Cricut Maker 3:
Silhouette Cameo 4
Recommended: #2 Best All-Round Desktop Vinyl Cutter
The Cameo 4 was Silhouette's big release of 2019.
There's no shame in coming second to the Cricut Maker 3, and the Silhouette Cameo 4 is still a wonderful vinyl cutter.
For a couple of years, we actually had it as the top-rated vinyl cutter on our list due to several key advantages over the original Cricut Maker. But then along came the Cricut Maker 3 in 2021, edging back ahead of Cameo 4 by making some notable improvements to force and cutting sizes.
The Cameo 4 is a huge improvement on the Cameo 3 — which was already a good cutting machine. It's also markedly cheaper than the Maker 3.
Call us shallow, but we don't love the industrial look of the machine and we do find the dual tool carriage to be a little inefficient for our tastes. These are very minor niggles though.
One of the best things about buying a Silhouette product is the fabulous community of craft cutters that you'll be joining. Who needs lifetime phone support with the community that Silhouette has brought together?
It also comes with the Silhouette Studio design software which, while basic, is easy to use and a great jumping off point for cutting beginners.
The Good: A huge improvement on the Cameo 3. Holds its own against the industry leading Cricut Maker 3 despite being 2 years older.
The Bad: Not as sleek-looking as we would have liked.
The Cameo 4 is the closest rival to the Cricut Maker 3, offering superb power and professional grade cuts.
Read our detailed Silhouette Cameo 4 review
Best Deals on the Silhouette Cameo 4:
Cricut Explore 3
Recommended: #3 Best All-Round Desktop Vinyl Cutter
The Cricut Explore 3 is the younger sibling of the Maker 3 and, in our opinion, one of the best personal vinyl cutting machines on the market right now.
People generally choose the Maker to take advantage of its superior tool set and cutting force. But if you are only looking to cut vinyl (and thin materials), the Explore 3 will get the job done at a much lower price.
It cuts and writes at double the speed of its predecessor, the Explore Air 2, and still boasts the same precision cutting, Bluetooth wireless capability, and software that — while basic — is ideal for the beginner cutter.
The Explore 3 works with over 100 different materials and is compatible with Smart Materials. Plus, it can cut up to a whopping 12 foot in length!
The Good: Significant upgrade on the Explore Air 2. Cheaper than the Maker 3, but just as good for cutting vinyl.
The Bad: There are a number of expensive add-ons to buy if you want to really make the most out of the machine
We say: Choose the Explore 3 if you love Cricut and know exactly what materials you want to work with. It's only worth upgrading to the Maker 3's superior tool set if you have a specific need to for it — like cutting thick materials.
Read our detailed Explore 3 review
Best Deals on the Cricut Explore 3:
Best Portable Vinyl Cutters
While the desktop machines above typically cut widths of around 11-13 inches, the following 'portable vinyl cutters' offer a smaller cutting width as a trade-off for being convenient, compact and bit more beginner-friendly.
Choose a portable cutter if you're only interested in working on small projects like card making, vinyl decals and scrapbooking.
Cricut Joy
Recommended: #1 Best Portable Vinyl Cutter
The Cricut Joy is the 2020 machine release from Cricut and is designed as a lower-entry cutter compared to the Maker and Explore desktop models. It's for simple projects that don't require a full desktop machine.
Lightweight with a small footprint, this is a machine for beginners, those on a tight budget or crafters who want something small for on-the-go cutting.
But don't mistake small for lacking in features!
It's a fantastic cutter for simple designs and even boasts matless cutting (if you buy the additional Smart Materials).
The Good: Perfect for beginners, relatively low cost
The Bad: You still have to deal with Cricut Design Space, lots of upsells
We say: The Cricut Joy is our pocket rocket for smaller craft projects. If you can accept the 5.5 inch cutting width, there's no reason to spend extra money when this nifty little machine will cut vinyl to perfection.
Read our detailed Cricut Joy review
Silhouette Portrait 3
Recommended: #2 Best Portable Vinyl Cutter
Towards the end of 2020, Silhouette released a long-awaited upgrade on the Portrait machine — the Portrait 3.
It's improved on the original in almost every imaginable way — it's more like a mini version of the Cameo 4, with plenty of bells and whistles.
The Portrait 3 is Silhouette's smallest cutting machine. It can cut material up to 8 inches wide and up to 60 feet long (a significant improvement on the rival Cricut Joy).
It's been designed to cut rolls of material for small projects — i.e. letter or A4 sized — and will be perfect for crafters who cut stickers and cards.
The Good: Huge improvements on the original Portrait; like a mini version of the Cameo 4. More cutting width than the rival Cricut Joy.
The Bad: Almost as expensive as the Cameo 4, too!
We say: The Portrait is basically a mini version of the Cameo 4. It packs much of the same technology, but works out cheaper and takes up less space.
Read our detailed Silhouette Portrait 3 review
Best Deals on the Silhouette Portrait 3:
Best Manual Die Cutters
Now let's take a look at our top rated manual vinyl cutters of 2023.
As you'd expect, these machines are manually operated — and considerably cheaper than their digital rivals. Great for smaller craft projects! You'll be limited in the number of materials you can work with, but vinyl should be fine.
Sizzix Big Shot
Recommended: #1 Best Manual Die Cutter
The Sizzix Big Shot is a powerful little machine that can be used to make cards, invitations, scrapbook pages, home décor, fashion, altered art and quilting. It has a huge community. Seriously, h-u-g-e.
This cult hero of the die-cutting world is just as useful for embossing as it is for slicing through materials (of which it can handle plenty, including all types of vinyl).
It cuts up to 6 inches, ships very cheap, and comes with a 3 year warranty.
The Big Shot is small, portable and suitable for desktop use.
It is operated by a hand crank.
However, if this is a problem and you would prefer electronic cutting at the push of a button, check out the latest version of the Sizzix Big Shot Express, which sacrifices the crank for an electric motor that saves us all grinding our wrists in to pulp.
A fun gift for a craft lover, and simple enough for the kids to enjoy.
The Good: Kid-friendly, nice starter kit for small crafts makers
The Bad: Limited size means a limited market
We say: You either love the Big Shot or you hate it. Those who are looking to cut vinyl with a hands-on approach will really enjoy working with the Big Shot. But it's not particularly versatile!
Best Deals on the Sizzix Big Shot:
Cricut Cuttlebug
Recommended: #2 Best Manual Die Cutter
The Cuttlebug is Cricut's answer to the Big Shot and was similarly very popular, although the company has now shifted its focus primarily to electronic cutting machines.
Just like the Sizzix products, the Cuttlebug works by manual hand crank and the use of die cuts and embossing folders.
Its most popular with children and crafters who are primarily interested in cutting small designs for cards and such like.
As always with manual die cutters, you are limited with the Cuttlebug in terms of the number and size of projects you can feasibly do with it.
The Good: Budget friendly, perfect for kids and beginners
The Bad: Increasingly difficult to get ahold of now that Cricut aren't selling them directly
We say: The Cuttlebug is something of a cult classic craft cutter. It's great fun for small scrapbooking projects. A real shame that it was discontinued – but you can occasionally still pick it up on Amazon or eBay!
Read our detailed Cricut Cuttlebug review
Best Deals on the Cricut Cuttlebug:
Best Commercial Vinyl Cutters
Finally, here are some commercial vinyl cutting machines that are ideal for small businesses — and those who need extra precision and reliability over some extremely large cut sizes.
These are heavy duty cutters used by professionals, signage businesses (and perhaps a few die-hard enthusiasts!).
Roland CAMM-1 GR2 Series
Recommended: #1 Best Large Commercial Vinyl Cutter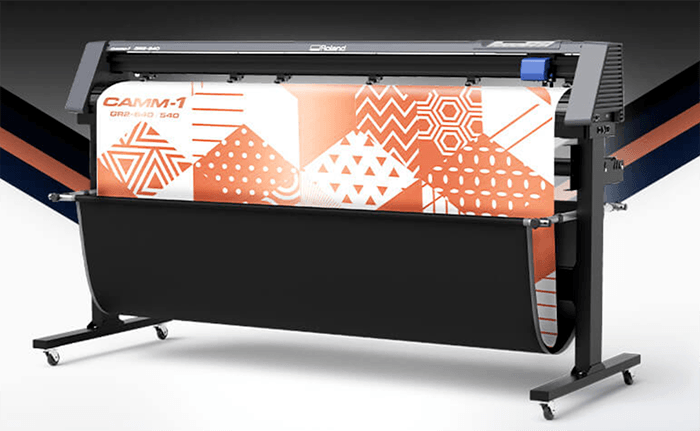 Not everybody is looking for a vinyl cutter that is catered towards cute crafts and decals. For some signage businesses and events companies, size is key.
Roland is one of the top brands in the commercial vinyl cutting world, and the GR2 series is a tremendous machine that cuts a wide range of materials to a width of up to 70.1 inches(!).
It's a big old unit, weighing over 120 lbs. The plotter is powered by digital servomotors, offering a professional grade cut that is extremely accurate, fast and reliable. If you need precision on large jobs, you can't go wrong with Roland. They are expensive cutters, but well worth the investment.
The GR2 Series can contour cut pre-printed graphics, letting you create professional vehicle wraps, custom window tinting, and even heat transfers for garments. The machine works perfectly with Roland DG printers, and comes with the new GreatCut-R software, which is comprehensive and very well supported.
The Good: Famous Roland reliability, excellent precision. HUGE cuts.
The Bad: Premium cost
We say: If you are running a business that needs high quality large cuts at scale, the Roland GR2 Series is considered the best in class. Prices start at $4995 (for the GR2-540) or $5995 (for the GR2-640), so this machine is a significant investment!
Best Deals on the Roland GR2 Series:
US Cutter MH Series
Recommended: #1 Best Budget Commercial Vinyl Cutter
The USCutter MH Series is a vinyl cutter that straddles the line between personal and commercial use. We think it's best for serious hobbyists and small businesses working with vinyl signage.
For perspective, it's over ten times cheaper than the Roland GR2 Series!
What makes this vinyl cutting machine so popular is the fact that you can spend less to get your signage business up and running with minimal investment. The price is comparable to most desktop cutters, in fact, yet with a much larger capacity. The 34in edition can cut to a maximum width of around 31 inches and length of 8 feet.
While it works great on simple jobs, however, it doesn't quite have the memory or expertise to be particularly useful for complex and intricate designs. It is known to lose its mojo on long runs as well, so it's best to keep designs small and delivered piecemeal.
Included with the USCutter MH Series bundle deal you'll receive vinyl rolls, transfer tapes, magnetic blanks, a knife, squeegee, chart and lifetime phone support. One thing missing is a materials basket, which is highly recommended to avoid static catching your vinyl as it passes through the machine, especially with these larger machines.
The Good: Large unit offers bigger cuts on a budget
The Bad: Reliability and tracking issues reported, not Mac compatible
We say: If you need medium to large size cuts, the USCutter MH Series is a great middle ground option. It doesn't offer the support or precision of a Roland, but it's significantly cheaper.
Read our detailed USCutter MH Series review
Best Deals on the USCutter MH Series:
Types of Vinyl Cutters in 2023
There are a huge number of die cutting machines on the market this year, and it can be overwhelming to decide which one is the best for your needs.
Before you start browsing, you should have some idea of what it is that you're looking for.
A manual or an electronic cutter? Bluetooth enabled or a plug n' play? What's your budget? Space restraints? We could go on.
Here are a few pointers that should guide you into deciding exactly what type of vinyl cutting machine is best for you.
Manual vs Electronic Cutters
If you've read our article on Vinyl Cutting 101, you'll know that there's two distinct markets when it comes to vinyl cutting: the manual machines that usually come with a hand crank, and the more sophisticated electronic cutters.
Which machine is best for you will really depend on how you want to use the machine.
Manual Die Cutters
Manual die cutters
will appeal to crafters who fall into the following camps:
Beginners and children
Those who don't want to deal with design software
Those on a tight budget
Those who prefer smaller size projects
Those working with a smaller space Sticker makers and card makers
Examples of popular manual die cutters we'll be looking at include the Sizzix Big Shot and Cricut Cuttlebug.
Manual vinyl cutters are typically much cheaper than digital cutters and can be picked up for under $100.
Electronic Die Cutters
Electronic die cutters
, on the other hand, will appeal more to the following:
More experienced crafters
Small crafting businesses
Those looking for a machine that can do lots of different things
Those wanting to do larger and more complex projects
Crafters happy to learn design software
Those with a bit more space and a larger budget
Crafters wanting to work with lots of different materials
Examples of popular electronic die cutters we'll be looking at include the Cricut Explore Air 2, Maker, and Silhouette Cameo 4.
Electronic die cutters are more expensive than manual cutters — typically costing anywhere between $150 to $400 for the latest machines.
A Note on Size of Cuts
Machines That Cut Bigger Designs Do Not Necessarily Cut in Better Quality
It's always worth bearing in mind that just because a machine is able to cut bigger designs, it doesn't mean that it will necessarily cut better.
Only buy a big machine if you know that you'll be needing it for large designs.
What Features Should I Look For?
Here are some of the features and trends we are enjoying with the very latest vinyl cutters.
Consider which are important to you before making a decision on which cutter you need!
Wireless Capability
Some of the best desktop cutters, such as the Cricut Maker and the Silhouette Cameo 4, are now Bluetooth enabled, meaning that you can be designing on your iPad on the sofa in one room, and send your design to the craft cutter in another room with just one click. Ideal!
Ability To Cut Unbonded Fabric
One of the most interesting things we've seen with the latest releases this year is stepping away the focus from just vinyl and cardstock to more materials, particularly fabric. Both the Cricut Maker and the Cameo 4 are now able to cut unbonded fabric just as well as any
specialist fabric cutter
worth its salt. The Cricut Maker has gone so far as to curate a huge sewing pattern library as well.
Automatic Settings
We remember the old days when you had to fiddle around with pinch rollers to experiment with the best blade pressure for different materials. Now, some of the more advanced craft cutters are able to automatically adjust their own settings to a range of materials at the flick of a switch — or can even calibrate automatically according to the material.
Smarter Software
As always, software for vinyl cutting machines remains contentious in 2023. Our vote still goes to Adobe Illustrator for the best and most advanced designing, although we've also been experimenting with Sure Cuts A Lot, VinylMaster Cut, Silhouette Studio and Cricut Design Space.
Before we get on to the best vinyl cutters that tick these boxes…
How Much Should I Pay For A Vinyl Plotter?
What should you expect to pay for a good machine? Well, generally, the most expensive machines are also the highest quality, able to take on intricate and complex designs and churn them out without a hitch. They usually have the highest standard blades that are able to make precise cuts in a variety of materials. That's not to say, however, that the cheaper vinyl cutting machines aren't worth bothering with.
In actual fact, some of the latest desktop machines priced well under $300 are some of our favorite craft cutters on the market.
They may be able to handle a lighter load than their more expensive counterparts, but they're pretty much perfect for home-style crafting and even for small home businesses.
Likewise, there are popular manual die cutters available for less than $100 than can satisfy the majority of small craft cutting projects. Paying more does not always mean getting more if your projects are simple.
At the other end of the market, if you are looking for a best-in-class vinyl plotter that can cut signage and vehicle wraps, you can expect to pay anything between $500-$5000.
There are some seriously sophisticated commercial models available from brands like Roland and Graphtec.
Still Can't Decide? Read Our Latest Vinyl Cutter Reviews
For the latest coverage of new machines, be sure to head over to our Reviews section, which is packed full of hands-on guides to the best vinyl cutters — including all of those mentioned above.